Latest dynamic evolution of Ford's kinetic design form language available in two exciting bodystyles
Driver-focussed interior with cockpit-style layout and superior craftsmanship
Stylish cabin combines sporting driver appeal with typical Focus practicality
MELBOURNE, Australia, 01 June, 2011
The all-new Ford Focus brings a dynamic new style to the small car class, with its distinctive two-body-style line-up comprising of a sleek four-door sedan and a sporty five-door hatchback.
Expressive exterior and interior design lies at the heart of the appeal of the all-new Focus, taking Ford's acclaimed kinetic design language to the next level, and providing customers with a rewarding ownership experience.
While drivers will appreciate the cockpit-style driving environment and superior craftsmanship, the cabin has lost none of the comfort and practicality which is a key characteristic of the Focus brand.
"We set out to make the all-new Focus great to sit in and great to drive, and its distinctive and dynamic design sends a clear message about the vehicle's undoubted driver appeal," said Martin Smith, Executive Design Director, Ford of Europe.
"With its sleek exterior and stylish, sporting interior, the new Ford Focus is a vehicle that customers will be proud to have on their driveway."
Sleek and dynamic exterior design
Both Focus body-styles share a sporty and dynamic character, developing the kinetic design theme which has contributed to the growing popularity of the company's latest small and medium cars.
With its striking front end, sleek profile, dramatic rising belt-line and athletic stance, the new Focus clearly conveys the rewarding driving experience that awaits customers when they take to the road.
The sporty five-door hatchback and sleek four-door sedan Focus models have been carefully developed to have their own distinctive appeal. Each body-style has its own clear identity and unique rear-end treatment, while sharing the same expressive front-end appearance with its dynamic new interpretation of Ford's signature lower trapezoidal grille.
Distinctive, driver-focussed interior
The dynamic quality of the exterior is reinforced by the distinctive design of the cabin. The all-new Focus has an extremely modern, cockpit-style interior, with a stylish instrument panel and centre console that wrap around the driver providing outstanding access to the vehicle's major controls and display panels.
A key element of the interior is the quality of craftsmanship. The cabin's bold and contemporary graphics, the sculptured shape of the soft-touch instrument panel and the choice of superior trim materials all help to give occupants the feeling that they are travelling in a high quality car.
The dynamic nature of the interior is reflected in sophisticated, contemporary colour schemes, which provide a harmonious environment that is both stylish and fashionable. Authentic chrome surfaces and high-gloss finishes provide passengers with visual and tactile highlights, while emphasising the premium quality of the cabin.
"We have designed an interior which fits the driver like a glove," explains Martin Smith.
"The stylish cockpit and premium materials ensure that the Focus cabin is a truly special place to be."
Sporting appeal with Focus practicality
The Focus interior combines a cockpit-style driving environment with the comfort and practicality that customers have come to expect from the Focus brand.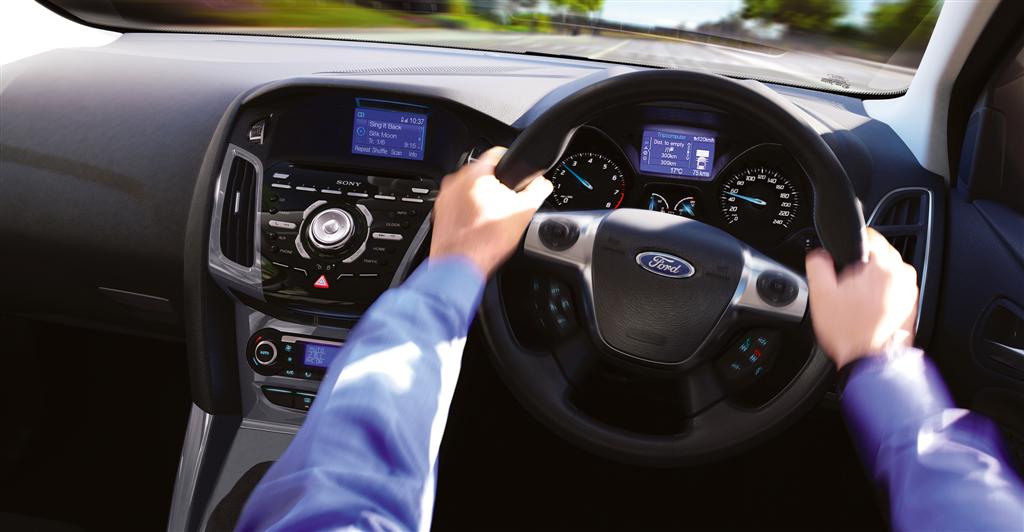 In addition to the ergonomically optimised cockpit layout, the Focus includes a host of features to make life behind the wheel as enjoyable as possible. These include a completely new front seat design – offering significantly better support with improved comfort – ample interior stowage with larger cup-holders and door bins front and rear, and flexible 60/40 folding rear seats which can further extend the generous luggage compartments.
The interior design was refined using Ford's advanced 3D Computer Aided Virtual Engineering (CAVE) system. The CAVE system creates a virtual, full-sized interior of a car, so that items such as cockpit layout, seating position, visibility and even reflections on the instrument panel can be tested and optimised during the early design stages.
Advanced Chassis Systems Provide All-New Ford Focus With Outstanding Dynamics And Refinement
Advanced chassis technologies and strengthened body structure provide the foundation for outstanding driving dynamics and refinement
Optimised new designs for 'Control Blade' multi-link rear suspension and semi-isolated front subframe
Completely new Electric Power-Assisted Steering (EPAS) system delivers precision with natural feel
The all-new Focus combines new and updated chassis technologies with a stronger and stiffer structure to ensure that it delivers outstanding driving dynamics and refinement. Many of the body and chassis features were an integral part of Ford's new global small car platform, which has been developed with exceptional driving quality as a primary objective.
"Adopting new and optimised chassis systems allowed us to set ambitious goals for driving dynamics on the all-new Focus," said Dr Norbert Kessing, Ford of Europe's Vehicle Dynamics Manager. "Technologies like the new EPAS system have made it possible to raise driving quality performance to a new level."
Body structure stiffened to enhance dynamics and NVH
While the body structure of the all-new Focus is significantly stiffer than the outgoing model – torsional stiffness is increased by 15 per cent on the five-door hatch – even greater attention was given to increasing stiffness in critical areas for vehicle dynamics and NVH, such as the chassis attachment points and the front-end structure.
At the front end of the vehicle, the suspension top mounts have been linked together by a sheet metal tower brace, which is integrated with the bulkhead. This bracing increases local stiffness by 50 per cent, helping to reduce NVH and improve steering feel.
At the rear, local strengthening has increased top mount stiffness by 45 per cent, contributing to reduced body flex, enhanced rear suspension performance and a reduction in noise in the rear seating area.
Optimised front and rear suspension designs
The chassis design of the new Focus is an evolution of the innovative concepts used in the outgoing model. The suspension systems have been completely updated, with optimised new designs for the 'Control Blade' multi-link rear suspension and semi-isolated front sub-frame.
The front suspension is based on the same MacPherson strut arrangement, but with lighter and re-optimised components, and a wider front track.
The updated specification includes:
Lighter, weight-optimised front lower control arms
Stiffer and lighter re-designed front sub-frame (saving 2 kg per vehicle)
New hollow anti-roll bar (saving 2 kg per vehicle)
Revised anti-roll bar mounting to improve roll control
Improved damper valve technology for improved ride comfort and road noise while maintaining body control
Re-optimised bushes to reduce transmission of road noise and vibration
The rear suspension also has a wider track, and features an updated version of the acclaimed independent 'Control Blade' multi-link suspension system. The key elements of the new system include:
Re-optimised 'Control Blade' design
Increased diameter dampers for improved ride comfort and road noise while maintaining body control
Larger hub bearings for increased camber stiffness and handling precision
Revised anti-roll bar mounting to improve roll control
Re-optimised bushes to reduce transmission of road noise and vibration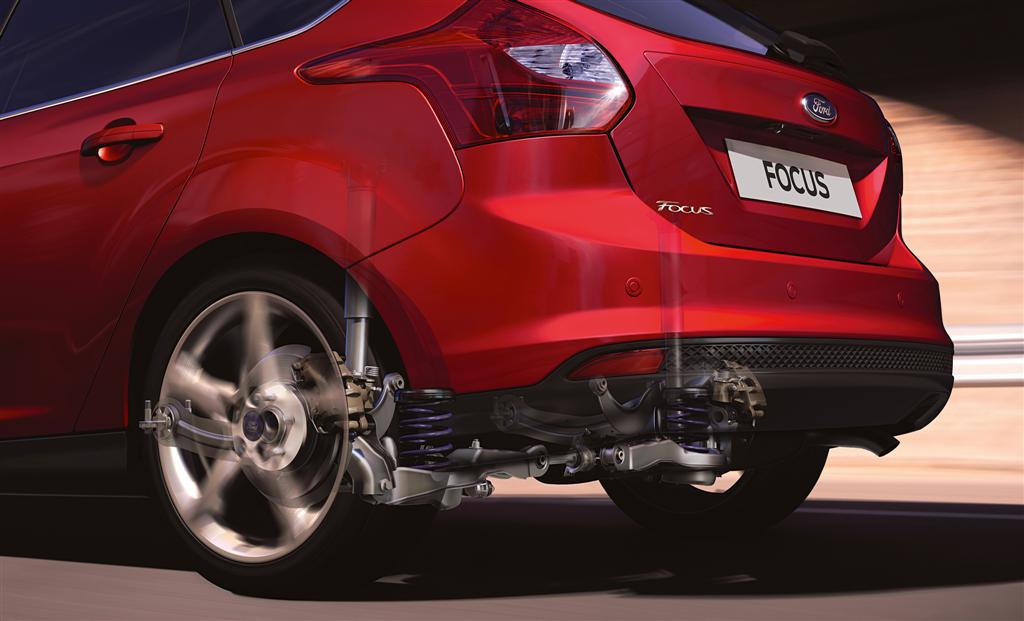 Advanced new EPAS system
The all-new Focus uses a completely new Electric Power Assisted Steering (EPAS)<sup>1</sup> system, which plays a key role in delivering the more dynamic driving experience offered by the new model.
The EPAS system is the latest rack-mounted design, which is capable of delivering precise steering with a natural and confident feel. The system has been carefully tuned with sophisticated speed mapping to deliver accurate responses at high speed while remaining light and manageable in parking manoeuvres.
Compared to the outgoing model, the steering ratio on the all-new Focus has been reduced from 16:1 to 14.7:1, creating a more responsive and direct feel.
In addition to supporting the introduction of the Active Park Assist<sup>2</sup> semi-automatic parking feature, the EPAS system also features Pull-Drift Compensation, which minimises the holding effort when driving along roads with a heavy camber, or with a constant side wind.
As the EPAS steering system only provides power assistance when required, it also reduces fuel consumption by approximately three per cent compared to a conventional hydraulic power steering system.
1 EPAS not available on Ambiente models with 6-speed PowerShift® automatic transmission
2 Active Park Assist only available on Titanium models
Latest Technology And Meticulous Tuning Deliver Superior Driving Dynamics In All-New Focus
Latest chassis technology optimised through meticulous tuning by experienced vehicle dynamics team delivers exceptional results
Unmatched blend of precise, agile handling with significantly improved comfort and refinement
Standard Torque Vectoring Control enhances cornering performance and provides increased driver confidence
When it was introduced in 1998, the original Ford Focus brought new levels of agility and responsiveness to the small car segment. The all-new Focus seeks to raise the benchmark once more, targeting class-leading driving quality that blends outstanding steering precision and road feedback with significantly improved refinement and ride control.
To achieve this goal, the all-new Focus employs the latest chassis technology – including the standard Torque Vectoring Control – optimised through meticulous tuning by the experienced Ford of Europe Vehicle Dynamics team.
Enhanced agility and precision with all-new steering system
In developing the all-new Focus, Ford's dynamics specialists wanted to give the vehicle an even more agile and sporty feel, while also achieving significantly improved levels of comfort and refinement.
To provide the required increase in agility, the primary focus was on optimising the all-new Electric Power Assisted Steering (EPAS)1 system to deliver the kind of precise, natural feel that is an important characteristic in all Ford models.
Having selected a suitable EPAS system, Ford engineers conducted an exhaustive analysis using a unique test rig to help identify the optimum way to configure the steering control system to achieve the precision and feel they wanted.
This was followed by a massive tuning effort in prototype vehicles, adjusting the EPAS control system until the steering provided a natural, confident feel and delivered exactly the required vehicle responses.
"We went to enormous lengths to fine-tune the steering system, including optimisation of the steering column kinematics and achieving industry-leading low friction levels," explains Norbert Kessing, Vehicle Dynamics Manager.
"As a result, the all-new Focus steering sets new standards for an EPAS system, with an unmatched natural steering feel."
Optimised suspension systems and vehicle structure
To enhance driving quality, the Focus team carried out exhaustive analysis of the dynamic loads within the suspension systems and body structure. This led to optimised new designs for the 'Control Blade' multi-link rear suspension and semi-isolated front sub-frame, and a comprehensive programme to increase the local stiffness of the bodyshell in the areas most important for dynamics and NVH, such as at the suspension attachment points.
This detailed optimisation of the suspension and body structure made it possible to deliver not only enhanced handling and agility, but also a significant improvement in comfort and refinement, resulting in an even more enjoyable driving experience.
Ford's Vehicle Dynamics team also gave high priority to the meticulous tuning of springs, dampers and suspension bushes to ensure the best possible suspension performance. Changes included the use of larger rear shock absorbers and a new valving system for the front shock absorbers, to achieve the optimum balance between primary ride control and refinement.
"Many people think that you can't combine precise, agile handing with a smooth and comfortable ride," said Norbert Kessing. "We believe otherwise, and the all-new Focus demonstrates what can be achieved when you combine the latest technologies with meticulous tuning."
Standard Torque Vectoring Control
The new Focus also features an advanced Torque Vectoring Control system as standard equipment, to further improve cornering stability and agility.
More typically found on high-performance cars, the Torque Vectoring Control system uses the vehicle's brakes to imitate the effect of a torque vectoring differential, constantly balancing the distribution of engine torque between the front wheels during cornering, resulting in improved grip and steering, and a reduced level of understeer.
The system operates using the car's Dynamic Stability Control (DSC) module, and monitors the vehicle 100 times per second. As the car accelerates through a corner, the system detects when the front inside wheel is starting to slip and applies an imperceptible amount of braking to the wheel. This prevents wheel spin and has the effect of transferring engine torque to the outside wheel, which has more grip, thus maintaining traction and steering control.
Unlike a traction control system, which reduces engine power, the intervention from Torque Vectoring Control is extremely subtle and may not even be noticed by the driver.
"When driving in a sporty manner through curves, Torque Vectoring Control makes the car feel smaller and more agile, with a faster reaction to steering inputs," said Norbert Kessing.
"The handling characteristics will delight experienced and enthusiastic drivers, but will also provide less experienced drivers with increased confidence and control, especially in slippery driving conditions."
1 EPAS not available on Ambiente models with 6-speed PowerShift® automatic transmission
Sound Quality Development Gives All-New Focus Superior Comfort, Refinement And Character
Balanced approach to minimising NVH delivers significant improvement in comfort and refinement
Enjoyable sound quality from reductions in unwanted power-train, wind and road noise, and efforts to emphasise engine character
Unwanted vibrations, squeaks and rattles eliminated to enhance quality feel
Achieving significantly reduced levels of noise, vibration and harshness (NVH) was a primary goal for the new Focus, with a major effort to create a balanced and harmonious sound character by minimising powertrain, wind and road noise, along with any unwanted vibrations, squeaks or rattles.
To emphasise the perception of quality, particular attention was also given to reducing all operational noises within the vehicle, such as the door closing sound. The result is a vehicle that approaches the standards of refinement and comfort more typically found in larger premium vehicles.
"Reduced levels of NVH can make a significant contribution to driving comfort," said Helmut Reder, Focus Chief Programme Engineer.
"With its improved refinement, the all-new Focus will allow customers to leave the car unstressed at the end of the journey, having enjoyed their drive."
Power-trains with refined sound character
Efforts to reduce power-train NVH focused on detailed optimisation of engines, transmissions and exhaust systems, eliminating unwanted noises at the source and enhancing the natural behaviour of the power-trains to create a more refined, yet powerful, sound character.
Additional sound insulation and absorption materials within the vehicle – such as improved carpets, the optimised application of self-expanding foams in body cavities, a headliner with improved sound absorption properties and additional sealing efforts on trim parts – have also been used in an effort to optimise and reduce the noise transfer into the cabin.
In particular, significant improvements have been made to the 2.0-litre Duratorq TDCi diesel engine. A new fuel injection system – capable of multiple injections per cycle – and an optimised calibration strategy have significantly reduced impulsiveness, the combustion noise better known as diesel knock.
Engine radiated noise has been reduced by a new acoustic top cover and a re-engineered engine structure with a two-piece bottom end, which improves structural rigidity.
Other unwanted noises have also been minimised through a series of measures in the injection system, turbo assembly and base engine, including common rail inlet orifices, air induction inlet guide vanes and intake system dampers, as well as with an optimised primary drive system.
With the addition of these new features, the TDCi diesel engine has been engineered to achieve exceptionally low noise levels and outstanding refinement throughout the engine operating range.
New door concept helps eliminate wind noise
To help reduce wind noise, the Focus adopts the same door structure and sealing concept as used on the latest Mondeo, including a three-lip continuous glass run design and an optimised exterior mirror shape and sealing.
Focus models with a diesel engine feature a windscreen with a special acoustic layer, which significantly reduces noise transmission in a frequency range critical for wind noise and other high frequency noises. This is complemented by increased glass thicknesses in the side glass and tailgate area.
All these changes result in a significant noise reduction compared to the outgoing model, a more consistent sound level distribution within the cabin and overall wind noise performance that is comparable to larger premium cars.
Road noise minimised by optimised body structure
The improved body structure on the new Focus, with increased torsional rigidity, stiffened front and rear sub-frames and selective application of dynamic absorbers, plays a major role in reducing road-induced noise and vibration.
The local body stiffness at the attachment points of the chassis components has also been significantly increased. For example, the rear sub-frame cross member attachment points are 75 per cent stiffer using advanced methods of structural optimisation.
The effectiveness of these enhancements has been maximised through rigorous attention to detail in tuning the stiffness and compliance of suspension bushes, application of sound deadening material on certain body panels, and in optimising tyre performance with the suppliers.
The result of this comprehensive approach is a reduction in overall road noise levels over the outgoing model in the range of 1.5 dB(A), representing much improved levels of refinement.
Superior Quality And Craftmanship Built In To Every Ford Focus
Painstaking approach to ensure outstanding quality and craftsmanship is engineered into every vehicle
Global DNA approach means all-new Focus gets the best of Ford's worldwide resources
Common global manufacturing processes deliver consistent quality from all plant locations
The all-new Ford Focus has been painstakingly developed to provide customers with the highest levels of craftsmanship and quality, from the elegant chrome finish on a ventilation control to the reassuring 'thunk' of a door when it closes.
Achieving such premium levels of quality is an integral part of Ford's powerful new Global Product Development System (GPDS), which defines the processes that underpin the development of all new Ford products.
Key initiatives for the all-new Focus have included the contribution of the Craftsmanship group, the introduction of components or systems developed using the Global DNA approach and the adoption of common global manufacturing processes for all plant locations across the globe.
Craftsmanship team delivers highest quality levels
Ford's dedicated Craftsmanship team was heavily involved with the Focus development process. The team is entirely focused on delivering the highest levels of product quality, including the visual appeal, touch, feel and operation of all controls, features and surfaces.
Premium levels of interior quality were a primary goal for the new Focus range, and the Craftsmanship group applied an almost obsessive attention to detail in ensuring that the new vehicle achieved those standards.
Specific initiatives driven by the Craftsmanship team included:
Selecting authentic chrome plating on interior trim parts, such as the door release handles, rather than painted coatings
Engineering the interfaces and transitions between parts for optimum quality and appearance, and robustness in production
Achieving precise colour matching between plastic trim parts by adopting sophisticated optical measuring equipment to define the colour precisely
Creating carefully choreographed 'Welcome' and 'Farewell' sequences for the interior lights and displays, to apply when customers enter or leave the vehicle
Optimising the softness and feel of key customer contact points such as the steering wheel, door armrests and centre console
Ensuring the new LED interior lighting is delivered with consistent levels of colour and brightness
The development team also implemented a new Digital Pre-Assembly (DPA) process, which used sophisticated computer analysis tools to analyse the quality of parts and assemblies during the early design phase.
The ability to carry out detailed virtual assessments of fit and finish quality before physical parts were available, and to continue that analysis throughout the engineering process, resulted in a significant improvement in crafted quality.
"The Craftsmanship and Design teams worked extremely closely together to ensure that premium quality materials were selected and that every joint, gap and radius was exactly right before the parts were signed off," said Helmut Reder, Focus Chief Programme Engineer.
"This rigorous attention to detail really makes a difference to the perception of quality experienced by the customer."
Global DNA approach raises quality standards
The all-new Focus is the first Ford product to benefit from a new global brand DNA which will define a consistent character and performance for Ford vehicles worldwide.
The global DNA encompasses all the attributes that have a direct impact on a customer's experience in the vehicle – from the way it drives, to the comfort and quality of the interior and the layout and function of its controls.
To define the DNA requirements for each attribute, global teams of product specialists worked together to deliver the optimum solution, capable of fully satisfying the needs of customers in all regions worldwide.
Many key areas of the new Focus – from the design of the seats, to the thickness of the rim on the steering wheel, to the door closing sounds – were engineered to meet the new global standards, resulting in improved quality and performance for the customer.
Consistent quality in every plant
The all-new Ford Focus will be assembled in multiple locations worldwide, starting with the lead plants in Saarlouis (Germany) and Michigan (USA), and followed by plants in St. Petersburg (Russia), Chongqing (China) and Rayong (Thailand).
To optimise quality and efficiency, this global network of plants will build the Focus using shared processes, tools and technologies.
The plants have worked together using advanced virtual manufacturing simulations to verify the assembly process from start to finish. This has enabled them to optimise the assembly process, share best practices, and ensure that the assembly line design allows employees to work comfortably and deliver consistently high quality.
This new approach will help all global locations maintain the highest product quality standards from the manufacturing launch through to volume production.