26 October, 2009
Three entrants to the Global Green Challenge from Darwin to Adelaide joined together in the blistering Northern Territory heat today to celebrate their common relationship before hitting the road on Saturday.
The Fiesta ECOnetic team, the Falcon XR6 Turbo team and the Ford-supported University of Michigan Solar Car team, brought their cars and their all their team members together for a complete team photo at Hidden Valley Raceway.
The Ford Fiesta ECOnetic and Falcon XR6T will head off on the economy run at 12:30pm on Saturday October 24, while the Solar Car team leaves on Sunday. Ford Team Manager Justin Lacy expects the two production cars to achieve very good fuel economy throughout the 3000km drive to Adelaide, while Solar Car Race Manager Steve Hechtman is fired up to win this year's Solar Car Event.
"Achieving only 3.7L/100km, the Fiesta ECOnetic is Australia's most fuel efficient car, so we expect it to seriously challenge for the outright title of lowest fuel economy in this event," said Lacy.
"Our Falcon XR6T is our sleeper entrant though – the overall winner will be determined by which team achieves the greatest improvement over their official ADR fuel economy number - and we're set to surprise a few people with just how good the fuel economy is on our Falcon.
"With the XR6T, we'll be proving that you really CAN have your cake and eat it too – hugely enjoyable performance, combined with outstanding fuel economy."
The Solar Car team is enjoying their trip to Australia and determined to win their segment – despite combating very high temperatures.
"The heat in Darwin is definitely unlike what we're used to at home, but we've had a few days to get used to it and we're determined to do our absolute best," said Solar Car Race Manager, Steve Hechtman.
The Global Green Challenge will cover more than 3000km, from Darwin to Adelaide to showcase current and future technologies that are designed to improve fuel economy. Ford has entered a Fiesta ECOnetic (diesel) and a Falcon XR6T in the event.
Follow the progress of the Ford teams on
http://twitter.com/FordAPA
and
http://facebook.com/FordFiesta
.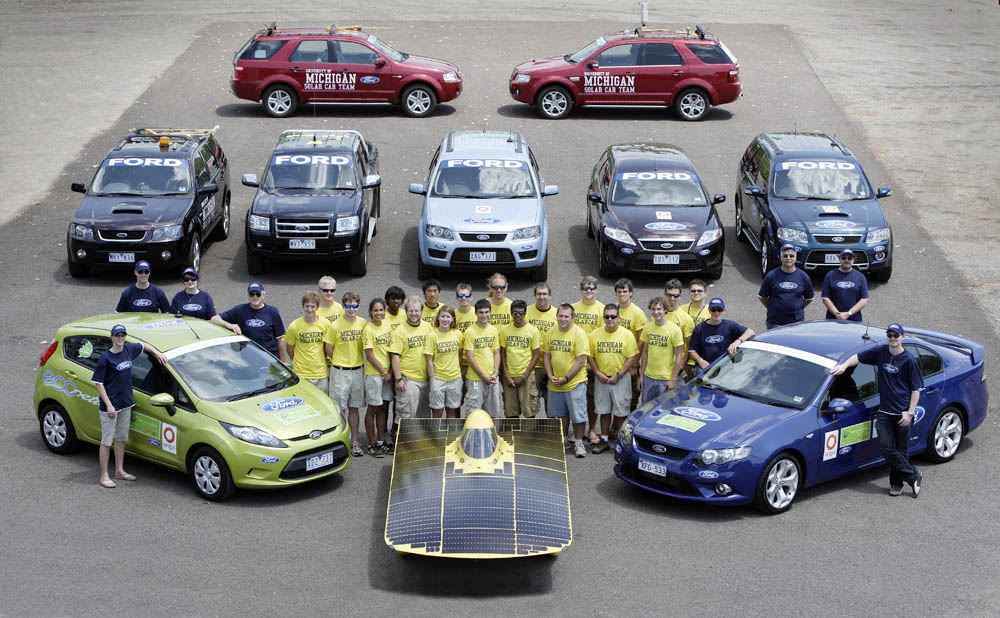 Source: Ford Media