April 2, 2009
Ford Australia today announced a number of significant fuel economy and CO2 emissions improvements on key models in its local product line-up, along with the achievement of an ANCAP five-star safety rating for its E-Gas range of Falcon sedans.
From April 2009 production, a Falcon XT sedan with the optional ZF six-speed automatic transmission will have a fuel consumption rating of just 9.9 L/100km, which will see it rank as one of the fuel efficiency leaders in the Large car segment.
Accompanying the reduction in fuel economy is a reduction in CO2 tailpipe emissions – down to 236 g/km – to give the Falcon XT an improved green vehicle accreditation with a 5.5 star Greenhouse Rating (for vehicles producing less than 241 g/km of CO2 emissions).
These improvements have been engineered without any degradation in the vehicle's performance.
"Since the new Falcon was introduced last year, we have continued our process of ongoing engineering development and refinement of the award-winning FG Falcon range," Ford Australia President and CEO Marin Burela said.
"This development has delivered genuine fuel economy improvements on volume-selling six-cylinder sedans fitted with the six-speed automatic transmission.
"The Falcon XT with a six-speed auto now equals the fuel efficiency of the top selling medium-size four cylinder auto model currently sold in Australia.
"Customers can now choose a true family size vehicle that delivers fuel efficiency equal with a four cylinder model, while also providing all the traditional benefits of a large car package, such as performance, refinement, interior space, passenger comfort, five-star safety, luggage capacity and towing capability," Mr Burela said.
Additional FG Falcon sedan models specified with the I6 petrol engine and six-speed automatic transmission – the G6, G6E and XR6 – also benefit from the powertrain improvements, resulting in a fuel consumption rating on these models of 10.1 L/100km and a CO2 emissions figure of 239 g/km.

* Combined fuel consumption as per ADR 81/02
As a result, Ford now offers seven individual models from the FG Falcon range that meet the criteria for a 5.5 star Greenhouse Rating – XT, G6, G6E and XR6 models with the I6 petrol engine and six-speed automatic transmission, as well as XT, G6 and G6E models fitted with the dedicated LPG E-Gas engine.
Key contributors to the improved fuel efficiency on I6 petrol Falcon sedan models include a new, latest generation catalytic converter, a new engine calibration for improved cold start performance and a further optimised transmission calibration.
"Over the past five years, our engineering team has developed fuel efficiency improvements of almost 14 per cent on this powertrain, helping to reduce a key operating cost for our customers, while also reducing the vehicle's impact on the environment by way of CO2 emissions," Mr Burela said.
"However, these fuel efficiency improvements have not come at the expense of performance – in fact both power and torque have also steadily improved over the same time frame, delivering on a key customer want of more performance and better fuel economy.

"Falcon XT continues to outclass its direct competitor on all the key performance measures, delivering 11 per cent more engine power and 20 per cent more torque, while at the same time using almost seven per cent less fuel," Mr Burela said
E-Gas
From May 2009 production, Ford will introduce Dynamic Stability Control (DSC) on all
E-Gas-powered FG Falcon sedan, FG Falcon Ute and BF Falcon wagon MkIII models.
A unique DSC calibration has been developed for E-Gas vehicles, combining brake intervention, throttle control and spark retard, to improve active safety levels and provide peace of mind motoring for E-Gas customers.
The FG Falcon was the first Australian-built vehicle to be awarded a five-star ANCAP safety rating following its introduction last year, cementing Ford's long standing reputation for safety leadership and placing the petrol FG Falcon sedan at the forefront of vehicle safety in Australia.
With the introduction of DSC on E-Gas-powered models, the entire FG Falcon sedan range will be equipped with the latest in chassis control systems, ensuring every model in the range comes with a five-star safety rating from ANCAP.

Along with the introduction of DSC on E-Gas Falcon sedan, wagon and ute models, Ford will also increase the availability of its E-Gas technology to include the Falcon XR6 sedan from the third quarter of this year. "The dedicated LPG E-Gas engine will be available as an option on the Falcon XR6 sedan, which will give customers greater choice by combining the lower fuel costs of LPG-powered vehicles with the distinctive visual appeal of the Falcon XR brand," Mr Burela said.
The Falcon XR6 sedan with E-Gas will include DSC as standard equipment, as per all other E-Gas sedan models in the FG Falcon range from May 2009 production onwards.
Territory
Fuel economy improvements have also been achieved on Ford's award-winning Territory with the introduction of the new look SY Territory MkII range, which will begin production during April.
Continual development and refinement of Territory – including a new, latest generation catalytic converter, a revised powertrain calibration, improved aerodynamic performance from the new front end design and reduced kerb weights on individual models – has resulted in a significant reduction in fuel consumption, particularly on five-seat RWD models.
A reduction of almost five per cent, or 0.6 L/100km, has been achieved on Territory TX and TS RWD models with five-seat capacity, while the rest of the RWD range, including all seven-seat variants, have improved by 1.6 per cent or 0.2 L/100km.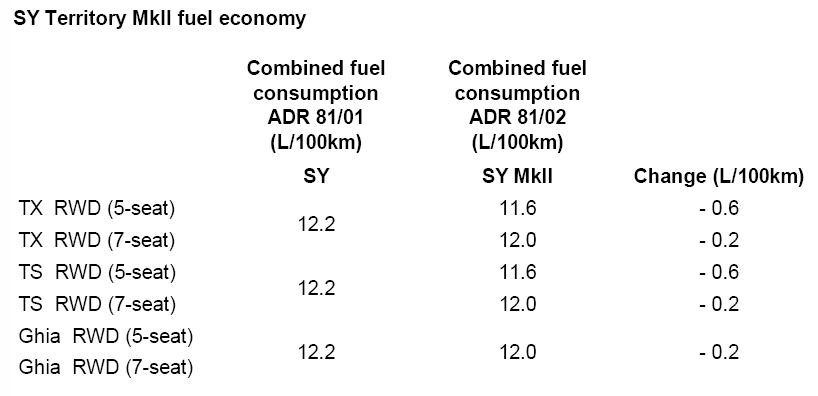 A host of additional equipment and features will be fitted as standard on the new look SY Territory MkII range, further improving its competitiveness in the hotly contested Medium SUV segment, as well as delivering a compelling value-for-money proposition for customers.
Territory TX will come standard with side curtain airbags, cruise control, 17-inch alloy wheels and a full body colour package for the bumpers, door handles and mirrors.
Territory TS will also be fitted with the full body colour package, along with a reverse parking camera, front fog lamps, leather-wrapped steering wheel, handbrake and gearshift, and a third row seat as standard.
Ghia models also gain a third row seat as standard equipment, along with an Alpine rear DVD system, side steps, rear privacy glass and 18-inch alloy wheels, while the Ghia Turbo picks up the same list of additions and a new alloy wheel design – 18-inch wheels are already standard fitment on the top-of-the-line Territory model.
Source: Ford Media